STOP SMOKING IN TWO SESSIONS
Now you can end your cravings and stop smoking FOREVER with this powerful two-session program.As you read below, don't forget to get your FREE gift! You'll be glad you did!


Congratulations! You've just taken the first step toward finally quitting cigarettes once and for all. This two-session (approximately two hours total) program will harness the power of your subconscious mind to transform you into a nonsmoker for the rest of your life.
A lingering question finally answered: Why is it so difficult to stop smoking? You might be surprised to find out it's not because of the physical withdrawal--that only lasts one to two weeks, and though it can be unpleasant, most people can tough it out for that long. No, the real answer has to do with the psychological addiction you've built up with cigarettes. It's complex and can be linked to many other habits you already have (such as having a cigarette after a meal). Many of these links reside in the subconscious mind, and this is why hypnosis is so effective. 

But what about willpower? It's true that some people have quit "cold turkey" with nothing more than pure willpower and the motivation to live smoke-free. But willpower is seated in the conscious mind, which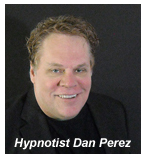 can be resistant to change, making it really difficult for some people. (See diagram below).
You might have the willpower to quit for a while, but the conscious struggle, along with the links to various daily habits, can put a serious strain on your ability to stay away from cigarettes permanently.
In addition, despite the knowledge that smoking is slowly killing you, your critical factor (the gatekeeper in the conscious mind that protects you from harmful ideas) sometimes does its job too well and prevents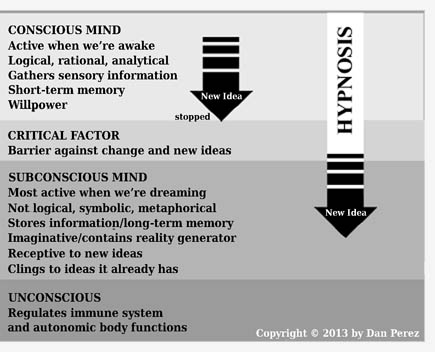 good ideas from being accepted by the subconscious mind, adversely affecting your ability to effectively quit. On the other hand, hypnosis works with the receptive subconscious mind, bypassing the critical factor and the need for willpower entirely.
Dan's nonsmoking program cuts the habitual links in the subconscious and makes quitting so much easier. You won't need electronic cigarettes, patches, nicotine gum or other intermediate aids to quitting with this program. Dan's program has been painstakingly designed to address all the physical and psychological challenges the smoker faces when quitting.

"Smoking was part of my life for 8 years. Within those years, I have always tried quitting but always end up smoking again. I have used different over- the-counter methods, even thought about getting prescribed with those medications for tobacco users. My family and boyfriend never failed to encourage me to stop smoking. I hear them and appreciate their concern, but deep inside I had almost given up on myself. My boyfriend met Dan and found he practices hypnosis to help people quit smoking. As my boyfriend ran this information by me, I was nonchalant about it because I was never a believer. I have only seen this type of stuff on TV, but never in real life. Anxious to kick the habit, I set up a session with an open mind and hopeful results. !!! tah-dah!!! It has been since March 2012 since the last time I smoked or even touched a cigarette. The session was great; though I was petrified going in, he made feel comfortable and at ease the whole entire time… and my boyfriend was also able to sit there with me. It has been such a huge change in my life. I do not regret it and will definitely recommended Dan to anyone who is ready to change their life."--Maria Vidal

"I had been wanting to stop smoking for a while for a number of reasons, and my boyfriend suggested I see Dan. He was professional and caring in his approach to hypnosis and he explained everything very clearly for me. I didn't think that anyone could stop smoking after only one hypnosis session but I was amazed to find out you can! After the session I really did become a nonsmoker, and Dan gave me tools to avoid any cravings that might come up. If you want to stop smoking, this is the way to go." --Phoung Truong
Hypnosis is safe, enjoyable and highly effective. It has been recognized as an effective treatment by theAmerican Medical Association and the American Dental Association.


ASK ABOUT MY GUARANTEE! IF YOU ARE REALLY SERIOUS ABOUT QUITTING, THIS WILL BE THE LAST THING YOU EVER NEED TO TRY TO KICK THE HABIT FOREVER!
CLICK "CONTACT DAN" AT UPPER LEFT
OR CALL TOLL-FREE 800-481-5949 FOR A FREE CONSULTATION.
A FREE PRODUCT FOR YOU!
Get a free product that will help you develop the right mindset for giving up cigarettes for good! Click here to get your free gift.
DID YOU KNOW?
There are many benefits to quitting smoking. Here are just a few:
Health: Your body begins healing from the adverse effects of smoking just 20 minutes after you quit. Only one year after you quit, your risk for coronary heart disease, heart attack and stroke are now only half that of an ongoing smoker. Health benefits continue to improve the longer you are a nonsmoker.
Expense: For a pack-a-day smoker, a year's worth of cigarettes costs approximately $2500. In only five years after quitting, the pack-a-day smoker will save an astounding $12,500!
Appearance: Smoking ages your skin, gives you bad breath and stains your teeth. Plus that smoky smell on your clothes, hair, car and furnishings will dissipate.
Links: